Get your own ecommerce portal from us. A complete ecommerce solution that offers you everything. We manage the entire ecosystem for anyone wanting to sell online. We ensure that we help our customer in every step of the process to grow your business online – from developing your unique web store, to listing you on social channels and marketplaces and to provide you insights on how to sell online.
For Enabling the Entire Ecosystem for selling Online, We
Compel web presence with beautiful storefronts
Tie-up with logistics partners enabling automated shipping
Ensure seamless integration with local and international payment gateways
Facilitate listing across multiple market places and social channels
Organize dashboard with data insights and inventory management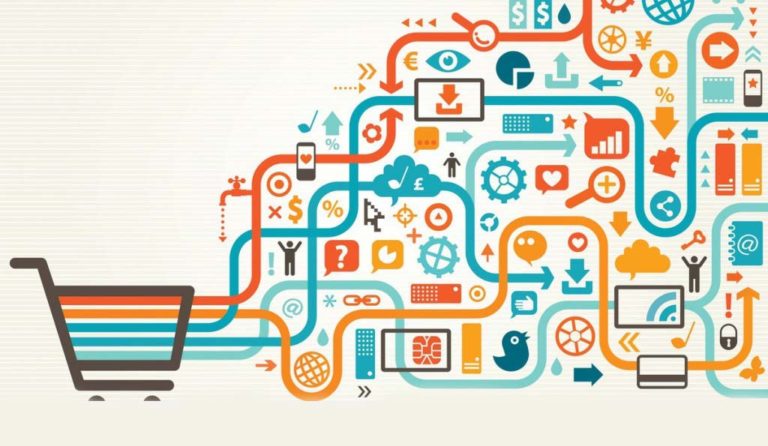 Create storefront with easy building blocks –

We have removed the complexity of website design, enabling you to simply choose different design blocks to complete each webpage to piece together your storefront.
Choose design templates by industry segments –

You can select from a set of website templates that are customized for specific industry segments, including fashion, sports, toys, and urban living.
Multiple payment modes to meet local preference –

We have multiple payment modes and you can choose from a range of payment options that are most relevant for your customers and markets. These include cash on delivery, credit card payment, bank transfer and international payments.
Smooth Integration, fuss-free management –

We manage all the backend integration so you can get your online storefront up that runs in the simplest and most efficient way.
Take Your Ecommerce Store Anywhere –

Build once, run your business on multiple devices. We ensure your product images and information are displayed just as beautifully on any Smartphone or tablet, as they do on a desktop or laptop.
No setup fees for any service –

With us, you do not need to pay additional setup fees for any of the services you require to support your online business, including logistics and payments.
Choose local or Global partners –

We have partnerships with local and global logistics players, so you can choose the network delivery coverage and pricing option that are most relevant for your targeted audience and market.
Integrated and automated logistics management –

We manage all the necessary backend integration, so all you need to do is hit the "Enable" button to offer the various delivery options for your customers.
Consolidated view of Inventory –

You can always view the status of your current inventory and stock levels via a centralized dashboard. This can be customized according to your preference and across multiple channels, marketplaces, and social platforms.
SELL ON MARKETPLACE AND SOCIAL MEDIA
Showcase your products on multiple sites –

We have widened the reach of your products by listing them on other marketplaces of your choice, including popular e-commerce sites in the region and globally such as Amazon, eBay, Flipkart, etc.
Upload once; tailored for many– We have option to tune-up your product categories to meet the required specifications of the various marketplaces. You only need to upload your product details once on our platform and all the product images and information will be displayed correctly, regardless of which marketplace they are listed on.
Manage sales on one platform

– With our platform, you can view and manage your sales centrally through one convenient dashboard. So that you can easily track how much revenue or sales you are generating on the various marketplace.
Showcase products on popular social sites– Enjoy a new way of direct selling. Reach your consumers where they are, by showcasing your products. Easily Sell on Social Channels like Facebook, WhatsApp, Instagram etc.
Easy management through our platform–Once product details uploaded on our platform, you can always display the information on various social media platforms. You can also manage this via our dashboard, where you can update your product details and these changes will be reflected across the different social media sites.
Monitor your sales & business growth– Your account will be included a built-in analytics that provide valuable insights to help you grow your business which is accessible through a dashboard. You can easily monitor the volume of your sales on a daily, weekly, or monthly basis and asses your business growth.
Tap data insights to boost sales– You can use our business intelligence tools to identify customer or product segments that are rolling the most revenue for your business. With these insights, you can tweak your inventory and pricing strategy appropriately to further boost sales.
Graphics & Visual help– We can convert the data into graphs, charts and other visual formats, so that you can view and analyze the data on a customized dashboard to quickly identify shopping trends and sales.
Improve customer service and tap seasonal sales– With the data insights to ascertain seasonal demand and repeat customers, you can offer special rewards to improve customer service or boost "low sales" seasons.
Optimized for search engines– All websites build by us are search engine optimized, so that your audience can search your store and is more likely to show up on search results and viewed by potential customers.
Build better customer profiles, drive site traffic–By tapping business intelligence analytics provided by us , you can build insightful customer care profiles and boost service delivery. You can even connect with your customer in just a click by including Google and Facebook login buttons.